Billing acid criminals Acid Crimes Prevention Bill comes a little too late for acid crime victims, but better late than never
By Alefia T. Hussain
Throwing acid is a cruel way of dealing with rivals in love and even business in Pakistan. And shamefully enough, it is a crime which often goes unpunished.
That perhaps is about to change – as activists, lawyers and parliamentarians are actively pursuing legislation on acid crimes. The final draft, titled Acid Crimes Prevention Bill, informs Yasmeen Rehman, adviser to the PM on Women Development and a PPP parliamentarian, will be submitted to the Ministry for Women Development this week, which subsequently will be sent to the Ministry for Law for approval.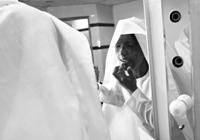 The bill, drafted after exhaustive consultations with lawyers and civil society organisations, including UNIFEM, proposes amendments to the Sections 332 and 336 of Pakistan Penal Code and to the Poisons Act 1919. It recommends strict punishment for the perpetrators of this crime which could range between life imprisonments to a fine up to Rs500,000 — depending on the severity of the crime.
Also, the bill prompts restrictions on manufacturers, distributors and retailers of acid. Their license may be revoked if the practices are found to be threatening public health.
Though this bill comes a little late for hundreds, if not thousands, of victims of this heinous form of violence against women but, as they say, better late than never. This will energise activists long-demanding laws to prevent such attacks and pressing for justice for acid burn survivors — such as Yasmeen who was attacked by her husband last week in Karachi because she demanded khula; Sultana, whose husband burnt her with acid while she was asleep one night last month as he suspected her of having an affair; or two sisters, aged 13 and 11, in Dalbandin, Balochistan in April followed by another attack on three sisters, aged 20, 14 and 8, a couple of weeks later in Kalat for stepping out of the house unescorted by a male member of the family.
The list of women who have been disfigured, blinded and maimed by acid crimes is long. According to statistics collected by Acid Survivors Foundation (ASF), an NGO advocating laws on acid crimes, about 400 women fall victim to acid attacks every year but due to underreporting, only 1500 cases have been documented over the past 10 years. Such attacks are usually triggered when the perpetrator's ghairat (honour) is presumably threatened, or refusing a marriage proposal, failing to give birth to a son — or even something as frivolous as cooking badly.
More exact statistics collected by ASF reveals family disputes lead to some 48 percent of attacks, 25 percent for refusal to accept a proposal, 12 percent for collateral damages and the rest for various other reasons such as land and money disputes, robbery and professional jealousies.
These findings account for a fraction of the overall incidents of violence against women. The fact is, acid attacks are most heinous. The victims' life becomes worse than death. They are mutilated, maimed – and socially isolated. In most cases people carry out such attacks because they know they will go scot-free. They are either not arrested or their trials linger on, thus encouraging others to use acid as a weapon too.
"If passed," opines Valerie Khan, Executive Director ASF, "this bill will definitely be an essential element in preventing acid attacks — by not only limiting access to acid but also by instilling fear among the perpetrators; as the security of impunity will not be there anymore."
On a more pessimistic note, she adds, "The bill will face the challenge of implementation which is why we are introducing the implementation mechanism in the bill, and why we are also proposing to some donors to help in the monitoring of the implementation."
But she is certain the bill must not stay in the books — "We are going to fight for it to become a reality at the grassroots level. This is our commitment."
The fight for survivors' rights and the prevention of future attacks must continue — not only on the legal but also the social front. The greatest challenge undoubtedly is to build public opinion against such crimes — and shift the focus from the victims' character and behaviour as a cause of violence to an attempted murder.